Six Feet Under

- Graveyard Classics
Metal Blade Records
46 minutes

1)

"Holocaust" - Savatage
2) "TNT" - AC/DC
3) "Sweet Leaf" - Black Sabbath
4) "Piranha" - Exodus
5) "Son Of A Bitch" - Accept
6) "Stepping Stone" - The Sex Pistols
7) "Confused" - Angelwitch
8) "California Uber Alles" - Dead Kennedys
9) "Smoke On The Water" - Deep Purple
10) "Blackout" - Scorpions
11) "Purple Haze" - Jimi Hendrix
12) "In League With Satan" - Venom
Take some of the best songs of the 70's and 80's and give 'em the Six Feet Under treatment, and this is what you have...a dozen songs of tuned down grindage. Personally, I've only heard the original version of half the songs on here, so I'm guessing the average listener has heard even less. Even so, this isn't a bad disc.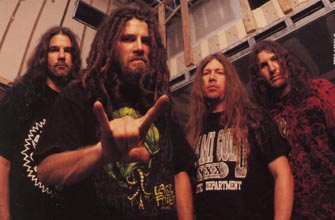 Standout cuts are definitely "TNT", "Sweet Leaf", "Piranha", "Smoke On The Water", and "In League With Satan". The rest are OK, and they're listenable. Given the song structure and riffs of the originals, they were just begging to be redone heavier. For instance, "TNT" has a nice low end bass that moves the song along, and the chorus of, "T.....N.....T, I'm dynamite..." goes really well together. AC/DC is a simple chord oriented band, and Six Feet Under is a slow riff oriented band. See how that works? One of the heaviest guitar riffs ever recorded was by Deep Purple, and is now nicely redone here. What about Jimi??? Well "Purple Haze" is played pretty straight-forward.
Some people won't be able to get over Chris Barnes' vocals, but oh well. But he doesn't do all the grunting here. He shares vocals with John Bush of Anthrax on "Blackout". If you don't get anything else out of this disc, at least you'll come out of it with a minor smile on your face when you hear Barnes gurgle, "Excuse me while I kiss this guy..."
---
to Music