Saint

- In The Battle
Armor Records
41 minutes
Review by: Megiloth

1) In The Battle
2) Star Pilot Return
3) Here We Are
4) Sacrifice
5) Holy Rollin'
6) Ryders
7) The Choice
8) When
9) Acid Rain / Full Armor
If you're a fan of 80's "leather, studs, power chords, and power vocals" heavy metal, and have a craving for this lost art of music, then look no further. After over a 15 year hiatus, the Saint we all know and love is back. Kind of. Josh Kramer is back on vocals and guitar, and Richard Lynch is on bass. In my opinion, it was always this combo that created the Saint sound. The other two guys are Jerry Johnson on leads, and Larry London on drums…umm, whoever they are. The guys are a bit older, the music scene has changed, and the hair is a lot shorter. Fortunately for us metalheads, that doesn't mean anything, because In The Battle is like a lost record of that era. If I had to categorize it musically with their other works, it has the great songwriting, structure, and solos of Too Late For Living, but with that old school headbanging power riffs feel of Warriors Of The Son and Time's End. But I'll let you crank it up and be the judge.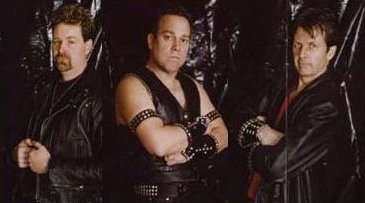 The opening title track was pure nostalgia for me. In the first few seconds, Josh Kramer hits that note that got him compared to Rob Halford of Judas Priest and the music had me banging my head at work. "Star Pilot Return" is a bit of a reworking of the original, and I really like the "…armor up Star Pilot!" scream at the end, a little nod to the original version. There are also hints of a King Diamond vocal influence here. "Here We Are" and "Sacrifice" are the two most melodic songs on the disc. It's not like they are commercial or anything, but just very memorable choruses and great leads. Sort of like "The War Is Over". "Holy Rollin'" gets us back on the power metal path ala early Mötley Crüe and the always-compared-to Judas Priest, followed by "Ryders" which was co-written by Dee Harrington (guitars on Too Late For Living). Maybe it's just me, but I definitely hear a riff from the old Kansas song "Carry On Wayward Son". There's a good mosh part opening up "The Choice" followed by some good metal sludge (not the website…hehe). Rounding out the CD is "When" (also cowritten by Dee Harrington) and "Acid Rain / Full Armor". "Acid Rain" is an acoustic guitar intro to the short but sweet, and speedy "Full Armor", where Josh Kramer opens by letting loose a total King Diamond note, complete with King's laugh.
From what I gather, the band is getting back together with Dee Harrington and working on new material, including re-recording Warriors Of The Son for a 20th Anniversary type of deal. It is bands like Manowar, Judas Priest, Iced Earth, and Saint that keep the spirit of heavy metal alive. There are not a lot of bands like this, so I give Saint a big "horns up" for still cranking out some good tunes.
---
to Music