Megadeth - The System Has Failed
Sanctuary Records
48 minutes
Review by: Megiloth

1) Blackmail The Universe
2) Die Dead Enough
3) Kick The Chair
4) The Scorpion
5) Tears In A Vial
6) I Know Jack
7) Back In The Day
8) Something That I'm Not
9) Truth Be Told
10) Of Mice And Men
11) Shadow Of Deth
12) My Kingdom
Man, what is it with metal bands recently going back to playing kick-ass material like they used to? Must be something in the water. Whatever it is, more bands needs to drink at least 2 quarts of it everyday. This appears to be the trend in some of my more recent reviews like Deicide, Fear Factory, Mortification, and Machine Head. The latest slab of metal from one of the original heavy hitters of the 80's speed metal movement, Megadeth, is no different. Personally, I say they peaked in the early 90's with Rust In Peace, and some say Countdown To Extinction. Whatever your preference, The System Has Failed fits neatly in between the two classics. After meandering all over the musical landscape in the mid to late 90's, Dave Mustaine went through various personal changes. Bandmate infighting, newfound faith in God, and the near total loss of his left arm due to a severe nerve injury to name a few. I guess when you throw all these things into one big pot and stir it, good things are the result. Reuniting with his old guitarist Chris Poland, there are a few new faces like Jimmy Lee Sloas on bass, and Vinnie Colaiuta on drums. I'm guessing these were just session musicians though, because according to the band's website, Nick Menza is back on drums, James McDonough (Iced Earth) is on bass, and Glen Drover (King Diamond) is on guitar. That's one hell of a lineup!
Opening with some good double-bass and chugga-chugga riffing, "Blackmail The Universe" delivers the goods l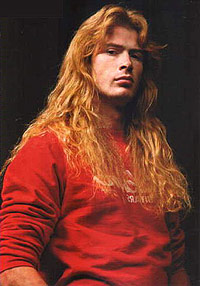 eading up to "Die Dead Enough" (the first video) which I could almost image King Diamond doing portions in his lower vocal range of course. "Kick The Chair" reaches back into the Rust In Peace playbook of offtime rhythms and intricacy. There are some not-so-technical sounding songs on here, but damn are they catchy. Examples of that are "The Scorpion" and "Tears In A Vial", of which the latter almost makes me reach for the skip button, but the song picks up the pace the last couple minutes. "I Know Jack" is a short intro that for some reason has its own track number. It stops for a split second, then "Back In The Day" kicks in with pretty much the same riff, which turn into some old school Iron Maiden metal playing. At first listen, "Something That I'm Not" sounds like Dave venting against some former bandmates without naming names. One of the handfuls of songs incorporating subtle use of keyboards in the background is "Truth Be Told", and one of the best songs on here. It's a hard hitting song that cranks up the speed and guitar solos to satisfy any old fan of the band. What follows kinda freaked me out. "Of Mice And Men" almost has a heavy Aerosmith quality, in terms of vocals and music. Weird. Ending this disc on a good note is the spoken work of the 23rd Psalm called "Shadow Of Deth" and "My Kingdom".
Musically this really shines. Keyboards make appearances adding atmosphere and effects. Dave is making a decent attempt at singing, but make no mistake, he is still the Snarl King that we all know, love, and can't understand. Lyrically, the themes revolve around society, politics and a little contemplative introspection on life, where he came from and where he's at now. Considering doctors told Mustaine he wouldn't be able to play like he once did, I say this release proves them wrong in a big way. One listen to The System Has Failed, and you find MegaDave is playing better than ever. This disc is a must own in your Megadeth collection. It's enough to make you forget that Cryptic Writings and Risk ever existed. Highly recommended.
---
to Music