Machine Head

- Through the Ashes of Empires
Roadrunner Records
59 minutes
Review by: Megiloth

1) Imperium
2) Bite The Bullet
3) Left Unfinished
4) Elegy
5) In The Presence Of My Enemies
6) Days Turn Blue To Grey
7) Vim
8) Seasons Wither
9) All Falls Down
10) Wipe The Tears
11) Descend The Shades Of Night
In the tradition of Fear Factory, the past couple releases by Machine Head have been less than satisfactory in my opinion. But they have redeemed themselves with Through the Ashes of Empires. It reminds me of their Burn My Eyes effort released about a decade ago, and that's a good thing.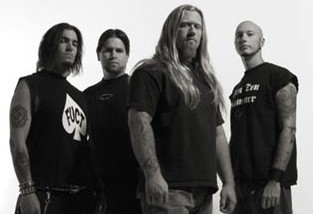 Opening with "Imperium" they proceed to beat the listener about the head shoulders with the Machine Head sound consisting of driving double-bass, heavy riffs, and Rob's gruffly shouted vocals. Even better, toward the end of the song, they go into all out thrash mode. The next two songs, "Bite the Bullet" and "Left Unfinished" aren't much different. "Elegy" is so-so. Yeah it has a heavy part or two, but it reminds me of something that could easily come off a Godsmack or Disturbed song….feh. "In the Presence of My Enemies" is a happy little tune about beating the shit out of those you don't like, then enjoying the day they are put in the grave. As a matter of fact, this seems to be the theme of most of this CD. "Days Turn Blue to Gray" is a bit too sing-songy for me, but "Vim" makes up for that by bringing back the baseline of heaviness guaranteed to get the crowd pitting up a storm. "Seasons Wither" shows Machine Head strapping on their old school and kicking up big cloud of whoop-ass! The introductory guitar noodling of "All Falls Down" had me scared they were going to break into "Welcome to the Jungle", but not the case. The final track, "Descend the Shades of Night", starts out as an acoustic number, gets heavy, then mellows out again, then gets heavy again, does a guitar solo, and back to mellow, then gets heavy, then exits on an acoustic note….hmmm, okay then.
Definitely worth a listen if you like early stuff like "Davidian" or "Hate Church". There are sparse uses of melodic vocal lines, but it all comes out in the wash. Best of all, Rob doesn't try and rap. The drumming is great, and while the guitars are mainly used as a rhythmic juggernaut, nifty guitar solos are thrown in for good measure…the true sign of all that is metal. \m/\m/
---
to Music