Living Sacrifice

- Conceived in Fire
Solid State Records
45 minutes

1) Imminent War
2) Symbiotic
3) 3 x 3 We Carried Your Body
4) The Poisoning
5) Send Your Regrets
6) Subtle Alliance
7) Into Again
8) Separation
9) Black Seeds
10) Ignite
11) Distrust
12) The Martyr
13) Reach for the Sky
Starting out as a Slayer-clone, they evolved into a total Death Metal band by 1994 along the lines of Malevolent Creation. They had their own sound, when DJ (vocals/bass) left to pursue other things. Then in 1996, they put some groove into their sound. It was still heavy, but I was a little let down. A couple years ago, they put out something that didn't even resemble anything they've done in the past. Their latest effort, Conceived In Fire, leaves a lot to be desired. I've stuck with the band this long, so I decided to give them a try, hoping they've gone back to playing Death Metal.
The first couple tracks, "Imminent War" and "Symbiotic" are nice and heavy. Ever since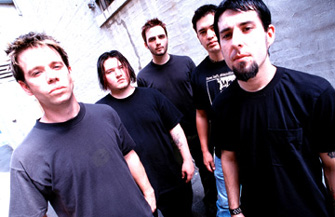 Bruce Fitzhugh took over vocal duties, they've been more of a shouted Hardcore style. The music has taken on more of a groove/tribal feel to it. Only two songs really grabbed me, "Separation" and "The Martyr". That's because they were of the Speed Metal variety ala Slayer, but about halfway through each song, they seem to lose it and drift back into their groovy Hardcore stuff.
It's all listenable, and I find myself jamming to this disc every now and then, but this is NOT the Living Sacrifice I used to love. If you're into bands like Soulfly or Sepultura, this is for you. If you're hoping for haunting guitar solos, blast beats and double bass, pop in your old copies of Nonexistent or Inhabit. I recently saw them when they passed through Kansas City. You can read that not-so-favorable review here.
---
to Music