King's X

- Black Like Sunday
Metal Blade Records
56 minutes

1) Black Like Sunday
2) Rock Pile
3) Danger Zone
4) Working Man
5) Dreams
6) Finished
7) Screamer
8) Bad Luck
9) Dawn
10) Won't Turn Back
11) Two
12) You're the Only One
13) Johnny
14) Save Us
I'm beginning to think it's impossible for King's X to put out anything that sucks. I've been hooked on the band since 1988 when I first heard "King" from Out Of The Silent Planet. This new one reminds me a bit of their early material. Or should I say..their earlier KNOWN material like the aforementioned album, because this is a compilation of their early material when the band was called The Edge back in the early 80's and was playing clubs around the booming metropolis of Springfield, Missouri. Since this stuff was never released, the band recorded it with modern bells & whistles and gave it some decent production. Doug's 12-string bass rumbles like a bulldozer, and Ty's guitar solos are so skillfully played. Depending on the mood of the song, Ty can jam with the best of 'em, or he can slow things down and pull out a variety of emotions from his guitar. Jerry holds down the fort with a solid beat behind his drum kit. The vocal harmonies on Black Like Sunday are perfect as always.
I still get a kick out of the fact that King's X is on the same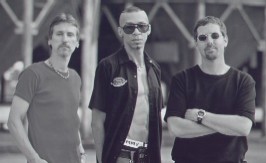 label as Cannibal Corpse and Amon Amarth, since King's X hardly sounds like most of the bands on that label. Truth is, they really can't be pinned down musically. Yes, they have heavy moments, but they also can play hippy-trippy songs you would expect to hear in a smoky club. The vocals can be rough and gritty, but then they turn right around and belt out some of the best harmonies ever recorded. "Danger Zone", "Two" and the chorus of "Dreams" are great examples of this melody, while "Black Like Sunday", "Rock Pile", and "Working Man" show off their heavier side. "Johnny" is the epic song on this one at almost 12 minutes long, where the last 8 minutes are just one long jam session that builds up then fades away, leading into the old-school punk sounding "Save Us" to finish up the disc. Good stuff!
Black Like Sunday is one heck of a groove laden disc, that is sure to please a variety of people's musical tastes. This is also a CD-ROM with lyrics, pictures, and even a crappy looking and sounding camcorder video of the band from 1986 performing "Dreams" in some club. That's such a great song, I'm surprised they never released it earlier. Buy this one and crank it!
---
to Music