King Diamond

- The Puppet Master
Metal Blade Records
56 minutes

1) Midnight
2) The Puppet Master
3) Magic
4) Emerencia
5) Blue Eyes
6) The Ritual
7) No More Me
8) Blood to Walk
9) Darkness
10) So Sad
11) Christmas
12) Living Dead
The musical master of the macabre has returned with another tale of misdeeds and villainy. This time the story reflects back in time to 18th century Budapest, Hungary when an unfortunate man and a girl named Victoria meet each other outside a theater after watching a very realistic puppet show. They are instantly (and magically) smitten with each other...until one night she never returns home from a show. The unfortunate man seeks out his love only to be drawn into a predicament that he will eternally remember.
Keeping the same lineup as Abigail II - The Revenge, King and company create some great moments on this disc. Given King's penchant for writing song structures to include dialogue between the story's characters, this is always something to look for. Guitarists Andy La Rocque and Michael Wead both do some exceptional work, in respects to both rhythm and solos. I think my only complaint is drummer Matt Thompson. Compared to other drummers that have been in the band, namely Mikkey Dee and Snowy Shaw, his style is too simplistic. It's good, but it's just not technical. It's a personal thing.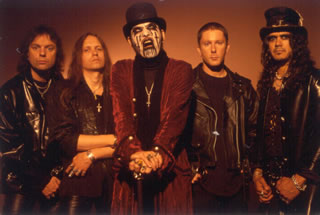 This disc has a little something for everyone and for the first time in years, King doesn't start out with a spooky spoken word intro. King's trademark high vocals are here, but not overbearing. I happen to like the high vocals, but he spreads them out enough on this disc in just the right doses to please us longtime fans as well as the new ones. Lyrically, there's some segments that'll make those with a weak stomach wince. There's a ballad, and there's even a Christmas song! And of course, there's straightforward headbanging metal.
Another goodie I was pleased to see in the packaging was a 30 minute DVD of King sitting in a darkened room around a candlelit table telling the story of The Puppet Master. Very cool. I wish he would make a DVD of him doing this to all of his stories in this fashion.
---
to Music