Iced Earth - The Glorious Burden
SPV
47 minutes - Disc 1
32 minutes - Disc 2

Disc 1
1) The Star Spangled Banner
2) Declaration Day
3) When the Eagle Cries
4) The Reckoning (Don't Tread on Me)
5) Greenface
6) Attila
7) Red Baron / Blue Max
8) Hollow Man
9) Valley Forge
10) Waterloo
11) When the Eagle Cries (Unplugged)

Disc 2
Gettysburg (1863)
1) The Devil to Pay
2) Hold at All Costs
3) High Water Mark
Better known for his darker themed lyrics, this time Jon Schaffer opted to write a whole CD (well, technically two CD's) around the theme of war. Most major events are covered on this one. From the times of Attila the Hun to modern day 9-11 tragedy. One song after another is musical brilliance. Very melodic, very technical, yet very heavy at the same time. Jon's been fascinated with history most of his life, and this is his chance to display his vast knowledge of the topic. As a bit of an aside, he runs his own collectibles shop in Columbus, Indiana called The Spirit of 76.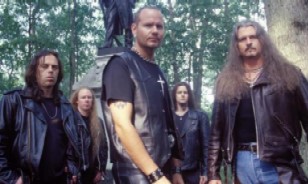 With the 2002 departure of vocalist Matt Barlow who left to work for the Department of Homeland Security, comes Tim Owens. If you're any metalhead at all, you already know who that is, but for the uninitiated, Tim "Ripper" Owens was vocalist for Judas Priest in lieu of metal god Rob Halford. Tim's voice is perfect for Iced Earth's brand of quick-picking Iron Maiden inspired classic power metal. On the (dare I say it) ballad, "When the Eagle Cries", he shows a softer and more passionate side than what we're used to, and on heavier tunes like "The Reckoning" or "Red Baron / Blue Max" he lets loose those power screams that scrape the stratosphere. The previously mentioned quick-picking and killer riffs by Jon Schaffer and tight drumming by Richard Christie make this a CD to crank up, bang your head, and play air guitar to with the exception of a couple songs that'll have you crooning along.
There are 3 different versions of The Glorious Burden, and I highly recommend the Special Edition digipak simply because it has all the songs on the North American and European releases. All editions do come with a second CD which is a 30+ minutes epic called "Gettysburg (1863)" based around the Civil War. It's some great material composed by Jon and performed by the Prague Philharmonic Orchestra . There are some excellent liner notes in the accompanying booklet written by Jon that give a great deal more background on the origins of this project, as well as a better insight into the passages of the 3 songs that make up "Gettysburg".
---
to Music