Hate Eternal

- King of All Kings
Earache Records
34 minutes

1) Our Beckoning
2) King of All Kings
3) The Obscure Terror
4) Servants of the Gods
5) Beyond Redemption
6) Born by Fire
7) Chants in Declaration
8) Rising Legions of Black
9) In Spirit (The Power of Mana)
10) Powers That Be
BUY THIS NOW!!!
This is one of the most intense bands I've ever listened to. Nonstop energy and aggression. If Malevolent Creation and Suffocation are on your list of frequently played bands, then you must buy this today. They're a three piece technical Death Metal band that will rip your face off. I don't see how Derek Roddy (drums) can keep up like he does. It's nonstop blast beats, double bass, and fills. Erik Rutan (ex-Morbid Angel) screams vocals with such conviction, you can feel it like shivers going down your spine. He also does all the rhythm and plays all the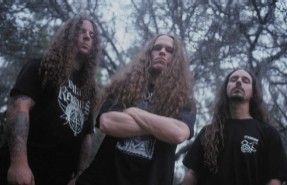 mind warping solos. Jared Anderson (ex-Morbid Angel) handles bass and background vocals.
There is not a single filler song. Maybe the intro, which is a standard ambient sound with distorted growled vocals. Right after that, it kicks into the title track, "King Of All Kings". Followed by "The Obscure Terror" and "Servants Of The Gods". It's a short disc with only 9 songs plus the intro, but you will have this thing constantly playing just to pick up on every single time change, every solo, and every vocal line. This is violence put to music.
I bought this CD after their set at The Bottleneck in Lawrence, Kansas back in November 2002, and they quickly moved up to my Top 10 Favorite Bands. Read that concert review here.
---
to Music