Extol - Synergy
Century Media
43 minutes

1) Grace for Succession
2) Paradigms
3) Psychopath
4) Blood Red Cover
5) 26 Miles From Marathon
6) Confession of Inadequacy
7) Scrape the Surface
8) Thrash Synergy
9) Aperture
10) Emancipation
11) Nihilism 2002
Well it's about time someone finally took notice of these guys. They've been around since the mid-90's and have put out two prior releases, Burial and Undeceived, as well as two EP's, Mesmerized and Paralysis. I'm sure there's been some other miscellaneous goodies put out, so it's not as if Extol just popped onto the scene. Thanks to Century Media, this Norwegian quintet will finally get some exposure.
Ever since Undeceived, Extol has been tagged with the title of being the new Believer. Synergy will undoubtedly be no exception. OK, so they covered one of their songs on Paralysis, AND Peter Espevoll has a Kurt Bachman-ish vocal delivery, AND the guitars have that off-key sound, AND David Husvik plays some interesting rhythms on drums, AND the band as a whole has such an amazing technical prowess about them...that doesn't make the new incarnation of the thrash group of yesteryear. Extol has been described as black metal or death metal. First off, just because you're from Norway, doesn't make you a black metal band (just ask Morten Harket of A-HA
). And just because you growl every now and then, doesn't make you a death metal band. Extol is in a league of their own. They play technical metal. It's heavy, yet extremely melodic and they have all the harmonies in just the right place. Sometimes they are in full-on thrash mode, sometimes they slow things down a bit. A little something for metalheads of all stripes.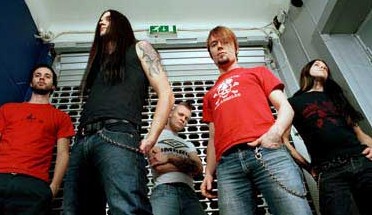 Their newest release, Synergy, is just one of those CD's you play and get lost in. Try keeping up with all the riffs and time changes...I DARE YOU!! From start to finish, it's like riding a roller coaster. Every turn has an effect on you, and while some parts are easy going and some peel your face a little more than others, the whole experience is what counts. There is a vast difference between the speedy, "Grace For Succession", and the more folksy and acoustic "Aperture". Good stuff all around.
Amazingly enough, they can pull this stuff off live. After seeing their set, which consisted of this new material, I HAD to pick up Synergy. I must say though, that when I bought the CD at their table, I got a little chuckle from the artwork. It looks like a Monk and Death are playing teeter-totter, complete with on looking Monks. Weird. The artist, Hugh Syme, is rather well known by his works on Rush, Megadeth, and Iron Maiden covers. Besides the probably-not-intentionally-funny cover art, there's not a downside to this disc. GO BUY!!!
---
to Music