Exodus

- Tempo of the Damned
Nuclear Blast
55 minutes
Review by: Megiloth

1) Scar Spangled Banner
2) War Is My Shepard
3) Blacklist
4) Shroud of Urine
5) Forward March
6) Culling the Herd
7) Sealed With a Fist
8) Throwing Down
9) Impaler
10) Tempo of the Damned
Exodus always seemed to be on the second string of the 80's thrash bands. Everybody has heard of and knows who Slayer, Megadeth, Anthrax, and Metallica are, even though that last one should have called it quits in 1988. Exodus put out quality music, but for whatever reason never could make it into the "Big 4 of Thrash". In the 90's they were all but unheard of, but with the release of Tempo of the Damned…oh my, they have returned to kick your ass, point and laugh, and continue with the aforementioned ass kicking.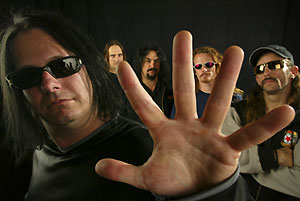 To call anything on this CD average thrash should be punishable by death. The music is thrash metal like you probably haven't heard since the 1980's. They pull no punches here. Everything is tighter than Fred Phelps' ass in a San Francisco bathhouse. You could bounce a quarter off the rhythm, precision, and production of this one. No little acoustic intros, no big gothic sound effects, and no fake attitudes. As opposed to a lot of mall-core bands who talk like they're gonna kick your ass, Exodus leaves no doubt what they're about lyrically. With songs like "Scar Spangled Banner", "Blacklist", "Culling the Herd", and "Sealed With a Fist", they are destined to be on some future compilation called, "Fuck You. You Suck. I'm Gonna Beat Your Ass." Very scathing lyrics, and you can feel the attitude and aggression flow with each track. But that's a good thing. I know when I'm having a bad day, stuff like this can ease my weary soul. Soothe the savage beast, if you will. Wow, I wonder if Exodus ever thought of themselves as a sort of metal Dr. Phil?
If metal in the 21st century continues in this fashion, this should weed out all the shit bands and Exodus will move up one step closer to the place they should have been in the first place. There is a shortage of bands that play this style, and I hope this is the start of something new in the years to come.
---
to Music