Evergrey

- The Inner Circle
InsideOut Music
58 minutes
Review by: Megiloth

1) A Touch Of Blessing
2) Ambassador
3) In The Wake Of The Weary
4) Harmless Wishes
5) Waking Up Blind
6) More Than Ever
7) The Essence Of Conviction
8) Where All Good Sleep
9) Faith Restored
10) When The Walls Go Down

Bonus: Live and Acoustic in France
11) I'm Sorry
12) Recreation Day
13) Madness Caught Another Victim
I'm a metalhead to the core, and there's nothing better than blistering death metal to perk me up and get my heart pumping. With that said, I also like to relax to some of the milder (comparatively speaking) stuff like Dream Theater, Balance of Power, and a new favorite of mine, Evergrey. This Swedish quintet knows how to play their metal proficiently, like the aforementioned bands. They're probably closer to Dream Theater though, but with stronger vocals. The music is headbanging at times, and in the next moment they can effortlessly shift into melodic acoustic and keyboards, and go back to more up tempo offerings.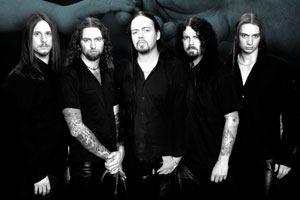 The Inner Circle finds the band doing this shifting rather decently. Lyrically, the release is based on the more recently publicized accounts of Catholic priests abusing children. This is not a happy disc to listen to and won't win any "Feel Good Album of the Year" awards, but that's what the band intended. Besides the musicianship and overall tone of the CD, other things that stand out are the addition of female vocals, and performance of the Gothenburg Symphony Orchestra.
As previously mentioned, the songs bounce around from some good headbanging tunes to more quiet and beautiful pieces. Then there are songs that combine the best of both worlds like the instrumental and last track, "When the Walls Go Down". Quite possibly the only complaint I have about some of the content is the inclusion of some fire and brimstone sounding preacher. I don't know of a lot of Catholic priests that sound like Jimmy Swaggart with a red hot poker up his ass. And I must admit doing a double take when hearing the chorus on "A Touch of Blessing". There's a part in there which sounds like the "…if you'll be my baby" line from the Savage Garden song, "To the Moon & Back".
The Inner Circle may not be as "metal" as their previous releases, but it's definitely not lacking. I surely wasn't let down. It's one of those CD's that kind of makes you think a little about the world in which we exist. No harm in that. And just so you're informed, there's a regular version of this one with just the 10 tracks, and there's a limited edition version that looks like one of those little Golden Books that you used to read as a kid. The limited edition contains 3 bonus acoustic tracks recorded live in France: "I'm Sorry", "Recreation Day", and "Madness Caught Another Victim".
---
to Music