Dream Theater - Train of Thought
Elektra
69 minutes

1) As I Am
2) This Dying Soul
3) Endless Sacrifice
4) Honor Thy Father
5) Vacant
6) Stream of Consciousness
7) In the Name of God
As expected, this CD is sheer musical brilliance lasered into the digital domain. This disc runs the gamut of musical styles, rhythms, speeds, and technicality. Even though these guys are the masters of their craft, I noticed a few simpler riffs here and there. The disc even opens with a dose of Black Sabbath doom sludge and then goes into Black Label Society mode, and then into typical Dream Theater harmonies. They also learned how to play mosh riffs, not as if they need to actually "learn" that. Some of the sections on this disc are great for some pit action. That'd be a sight.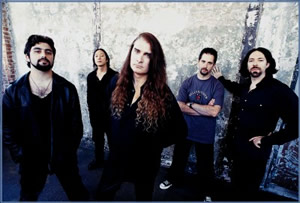 There's seven songs here, and each one except for "As I Am" and "Vacant" are over 10 minutes long. The whole CD itself is almost 70 minutes, so there's plenty of aural exercising to be done. There are the down and dirty rock and roll sections, there are the sections that just make you stop what you're doing and bown down before the altar of John Petrucci. I mean, seriously, he and keyboardist Jordan Rudess are just taunting us with their playing off of each other. Mike Portnoy is also someone worthy of praise behind the drum kit. I'd love to hear this guy play in a band like Morbid Angel or Dimmu Borgir. "This Dying Soul" is also my personal favorite track. Mainly because the music is all over the place. Slow wailing guitar leads, mixed in with piano, and clean vocals. The next minute there's hardcore vocals, some Living Color sounding guitar work, and at the 7:15 mark, I could swear they totally ripped the vocal line straight from Metallica's "Blackened". And to round out that song at 9:15 is two minutes of some of most insane lead guitar work you have ever heard, only to leave you literally hanging when the song ends unexpectedly. Phenomenal. Even if you like rap vocal delivery, there's a bit of that here too.
For musical aficionados and the like, this is almost better than masturbation. All the musical sections are nice and clear during their extended solo instrumentals, so feel free to listen play along in your off time. Good luck. This is another great Dream Theater release, so go pick you up a copy. Now if the band would only release their "Master of Puppets" show from Barcelona on CD. (hint hint hint).
---
to Music