Crimson Thorn - Purification
52 minutes

1) Lack of Compassion
2) Humbled
3) Sarcastic Deviation
4) Withered
5) My Neighbor
6) Narrow
7) Eviscerate
8) Meaningless
9) The Word
10) Misguided Mercy
11) Finding
12) Masquerade Deceit
Purification is the third release from one of my favorite Death Metal bands. Intense, brutal, grinding, and heavy. Luke Renno IS the best vocalist in this genre I've ever heard. He can release some of the deepest death belches known to man, and the next minute be sounding like a caged animal needing raw meat. Simply amazing. He also handles bass duties. The rest of the band holds down the fort with a musical tightness unsurpassed. Whether the music is slow and grinding, or full tilt blast beat, everyone is on the same page and it all seems to work. They may not be the most technical Death Metal band, but if you want that feeling of getting hit with a Mack truck, then this is the band for you.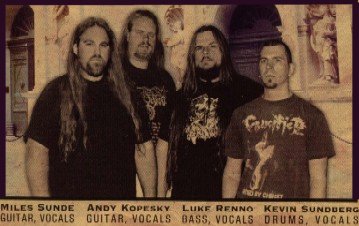 The most noticeable addition to their sound is keyboard, performed by guitarist Andy Kopesky. It's only on a few songs, and is added for ambience and background on songs like "Humbled", "Withered", "My Neighbor", and "The Word". Not everything is Death Metal on this disc. "Narrow" sounds like an outtake of Zakk Wylde's Black Label Society. It's just a down and dirty blues song...with growls on vocals. Everything else is good old fashioned Death Metal, along the lines of older Hypocrisy or Suffocation. Although Crimson Thorn have their own style, I can't help but think they stole a riff or two from the recent offerings of Carcass. Listen to the opening track, "Lack of Compassion", and you'll know what I'm talking about when you hear it. It's veeery obvious.
If you like your Death Metal with guttural vocals, crunchy guitars, blast beats, and double bass, then you should pick this one up.
---
to Music