Black Label Society

- Hangover Music Vol. VI
Spitfire Records
67 minutes

1) Crazy or High
2) Queen of Sorrow
3) Steppin Stone
4) Yesterday, Today, and Tomorrow
5) Takillya (Estyabon)
6) Won't Find It Here
7) She Deserves a Free Ride (Val's Song)
8) House of Doom
9) Damage Is Done
10) Layne
11) Woman Don't Cry
12) No Other
13) Whiter Shade of Pale
14) Once More
15) Fear
Unless you already know this is a mild mannered and low key release, you'll be surprised by the content. When you think of Zakk and Black Label Society, what's the first thing you think of? Well, besides beer (hehe)...you probably think of down-n-dirty, ass kickin', hell raisin', and alcohol chuggin' rmusic. Sort of a heavy metal Lynyrd Skynyrd. Typically speaking, that would be a good description, but this disc goes a different direction. With a title like "Hangover Music", you would imagine it's full of heavy Southern rock goodness with lots of references to downing your favorite adult beverage until you get a hangover. Quite the opposite. This is music is what you listen to after that lovely night of overindulgence. As anyone knows, the last thing you want to go with your pounding head is pounding music. And we don't even want to talk about what effect feedback and loud guitar solos have on the nervous system after a long night of booze.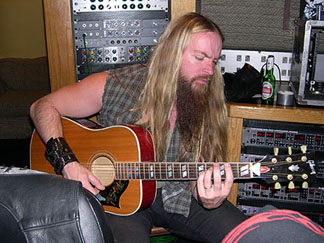 "Hangover Music Vol. 6" is 15 tracks of acoustic guitar and piano, a combination of both, with the occasional foray into electric guitar. Most songs are of the softer variety that Zakk has performed in the past, but instead of a couple tracks per CD, this CD is full of them. Just some seriously heartfelt and soulful music. Zakk's singing is delightfully awful, but his hoarse and gruff version of Duane Allman is a good thing. On drums, he has some session guys you may have heard of: Craig Nunenmacher and John Tempesta. Same thing with bass guitar: James Lomenzo, John Deservio, and Mike Inez.
For you non-drinkers, a great way to enjoy this is to turn out the lights, and turn up the stereo about halfway. Then take it down a couple notches. Sit back in your favorite lazy boy and become one with the sounds pulsing out of the speakers. Don't go into this expecting bone-crushing riffs and all things related, or else you'll be disappointed. Enjoy it for what it is in the meantime, but hopefully in a year or two, Zakk's liver will have metabolized all this mellow stuff and return to knocking our dicks in the dirt on his next release.
---
to Music