Queensryche
Uptown Theater, Kansas City, MO
January 21, 2005
Review by: Tyree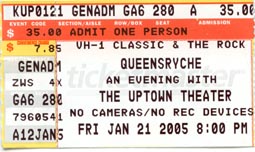 Queensryche's live production of Operation: Mindcrime was, as was expected, downright awesome. We were a little bit alarmed when we got there and discovered the line to get into the theatre stretched halfway around the block. Apparently more people in Kansas City like Queensryche than I thought!

The first half of the set was a greatest hits package, with 3/4 of the song quite predictably culled from Empire, their most successful problem. Unfortunately, this also meant having to sit through the song "Jet City Woman." [I thought it was Jet Skiing Woman?? - ed] And naturally, the song I least wanted to hear got a standing ovation - probably because the largely middle-aged crowd conceived their kids to it or something. Don't get me wrong, "Jet City Woman" is a great song if anyone else had recorded it [like U2? - ed]. I have issues with it, however, because to me it is the song where Queensryche stopped being Queensryche and began their present career course as the Phil Collins of hard rock. A course which they have yet to deviate from fourteen years later. But that song aside, it was an awesome set. The band is amazingly tight live and every single instrument could be heard loud and clear. I was a bit disappointed that songs like "Anybody Listening?", "I AM I", and "The Lady Wore Black" got left out of the set, but it was a helluva show and just a warm-up for "Mindcrime." [I don't think they played anything from Queenryche, Warning, or Rage for Order...*grumble* - ed]

I saw Operation: Mindcrime the last time they performed it in 1991 and didn't know what to expect in comparison. I am pleased to say that they delivered everything they delivered 14 years ago only bigger, better and MORE. Actors on stage, back-up vocalists, multi-media stuff. It was the way Mindcrime was always meant to be. I'm surprised they were able to get away with having one of their actors convincingly bum-rush the stage so soon in the wake of Dimebag Darrell's onstage murder [No shit! I noticed people looking visibly nervous when he grabbed the mic outta Johnny Dare's hand and started screaming - ed], but it served to add to the feeling of paranoia which the conceptual show is supposed to inspire and reminded us of how ballsy Queensryche can be when they really want to.

The only disappointment overall would be the fact that singer Geoff Tate can no longer hit the high-notes like he used to, but what he has lost in chops, he makes up for in stage presence, as does the entire band. One of the best shows I've seen in years, just like it was 14 years ago.
---
to Music