OzzFest 2004
Verizon Wireless Amphitheatre
Bonner Springs, KS
August 10, 2004
Review by: Megiloth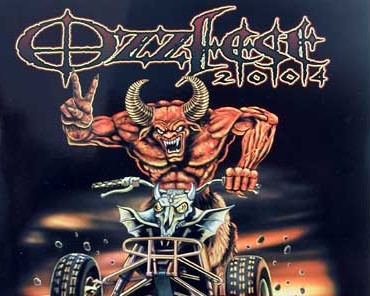 This was my first OzzFest and even including the few sucky moments I'll mention later on, it was well worth my while to attend. Those held in years past had a few metal bands here and there, but this year brought forth some serious sphincter clapping metal. From some average acts like Atreyu and Everytime I Die, to better way better than average acts such as Lamb of God and Hatebreed. From as far north as Norway's corpsepaint and spike sporting black metallers Dimmu Borgir to the more domestic, ass-kicking, and beer swilling Black Label Society. And of course, two of the originating bands that started this little thing called heavy metal, Judas Priest and Black Sabbath. For a mere $50, give or take a few bucks for Ticketmaster's ass-raping fee (check your tickets, it's listed as such), you get over 12 hours of music, overpriced shitty food, and swag vendors galore pimping out their wares. Gotta love it.
The second stage is where it all starts around 9:00 AM. I caught pretty much every band that played there, including ones that thrilled me about as much as being Ted Bundy's cell mate. This stage had the more hardcore metal sounding bands, dare I say nu-metal, but there were the shiny gems such as Lacuna Coil, DevilDriver, God Forbid, Lamb of God, and Hatebreed. The most pointless bands that was bestowed mine eyes and ears was Otep and Magna-Fi. Ok, so Otep has a chick singer that tries to sound mean. Fuck that. I've heard Arch Enemy. Also, I've seen Dark Funeral live and they have real pig heads they throw out in the crowd. Nice try though. Plus the political banter between an already short set got annoying. When Magni-Fi played a song called "Where Did We Go Wrong", me and my crew joked, "uh, when you started a band?" A couple bands that were good and got the crowd churning to the hits were Throwdown and Unearth. I've heard maybe one song by each and I thought they were so-so. But live, they put on a good show. Slipknot. We missed them, because frankly I've heard clips of their new "we are progressing as a band" CD, and it's very underwhelming. I've also seen them before, so it's no big loss. Plus I heard through the grapevine their sound was awful. As was the general aural assault of the second stage. At times the sound was great, and just when your eardrums are enjoying the crispness of the crunch, it would get all muffled as if someone dropped an invisible shield in front of the speakers. Weird.
One thing that really stood out with the second stage acts, and hopefully OzzFest will spread the good word city by city, is the reintroduction of the "circle pit". It's about time. I'm sick of going to shows and people just run into each other for the first 10 seconds of a killer mosh riff laden song, and stop. I remember back in the 80's and early 90's, the mosh pit was a big circle of people akin to looking like a rotating hurricane on a weather map. Not too fast, and not too slow. Everybody did their own little thing, and if someone fell down, a fellow thrasher would help them back up. Things could get out of hand at times, but you tried to look out for one another as much as possible. When you get a lot of people going around doing the toxic waltz, it looks fucking great. Especially if it's outdoors like this was, because a huge spinning circle of dust rises from the pit of wardancers and covers those just hanging out near the pit. Good times. BRING BACK THE CIRCLE PIT!
Most sets with maybe the exception of the last few were maybe 20 minutes. And like clockwork, as one band left the stage and their banner came down, the next band's banner was hurled up and the next band was ready to go. This was the fastest set change I've ever seen. 5-10 minutes tops. Kudo's to the stage crew over there. The same couldn't be said for the main stage, but hey, with the caliber of bands that played there, a few extra minutes to set up is understandable. Well, except for Superjoint Ritual who should have played on the third stage right outside the parking lot at the far end. Or maybe one of the stages at the adjacent Ren-Fest fairgrounds would be more suitable where only the woodchucks and possums would hear that mumbling buffoon Anselmo. God did they suck. More on them in a bit.
Up first was Zakk Wylde's Black Label Society cranking out some dirty raunch-and-roll. How can you not like this band? It's like the Allman Brothers meets Lynyrd Skynyrd meets loud bombastic guitars. Kind of a quick set, but I thoroughly enjoyed it. Thumbs up for Zakk talking about supporting our troops overseas, and showing the diversity of the word "Fuck" :)
OzzFest had one of those "the good outweighs the bad" vibes. Lots of great bands, and even the not-so-great bands were listenable. With that being said, quite possibly the worst set of the day was SuperJoint Ritual. It was almost embarrassing hearing Phil Anselmo say the stupidest shit like, "Raise your fucking hands in the name of Satan" or "We are the fucking most hardcore fucking banding playing here" or "You've heard of a band called Pantera? Well I think you all know who the fuck I am.". Shut the fuck up already. The best part was seeing raised middle fingers at Phil when he started mumbling the most inane shit, and people were yelling, "Shut up and play". Another highlight was in another one of Anselmo's rants he says, "I know who you all came to see." I heard people say "Slayer" and "Dimmu Borgir". What a dolt. And to top it off and show how much of a cool guy he is, Phil closed the show with some more Satan talk followed by "Smoke pot and eat pussy" before finally leaving. He probably had a fresh spoon of heroin cooking up backstage and had to tend to it. Phil Anselmo is the perfect example of why you should NOT do drugs. A friend of mine said she took a picture of her flipping Phil off. That should be classic. I remember him getting pissed off mid show, and that may have been what did it. Either that, or the crowd not starting a pit in the bolted down seating area when he wanted them too. Dumbass. **Please Ozzy, don't bring this shit act on the road with you next time!

To wash that nasty taste called SuperJoint Ritual out of our collective mouth, Norwegian black metal purveyors Dimmu Borgir came out to "Spellbound By The Devil", and continued on through "Kings of the Carnival Creation", "Vredesbyrd", and "Progenies of the Great Apocalypse". I was wanting to see them this time around to see how their new drummer measured up against Nick Barker. Considering they didn't play any of their faster material that Barker excelled at, it's hard to judge. Great set, but the idea of a leather, spikes, and corpsepaint wearing black metal band playing while it's still bright and sunny overhead is a bit odd. I'm sure they won over some new fans who, if it wasn't for OzzFest, probably never would have heard of these guys.

Up next was Slayer who played a standard set consisting of their big tunes like "Disciple", "War Ensemble", "South of Heaven", and "Dead Skin Mask". Unlike their last go around, they didn't play the entire Reign in Blood release. Oh well, at least I got to experience that little nugget of goodness before I died. The fucked up part of the show was when Tom Araya dedicated "Mandatory Suicide" to the troops overseas, some dickless piece of shit threw a cup of water/beer hitting Tom in the face. After the cup nailed him, he maintained his composure amazingly enough. The crowd in the front turned around and was pointing the guy out and yelling. Hopefully they dragged that fuck out and beat his ass. Tom went on talking about the reason we have freedoms and all that is because of the troops...the crowd went nuts, yelling and clapping. And of course, the band did play "Raining Blood". How could they NOT play the song that should be required listening for 3rd Grade music class.

It was forecasted to rain all day, but the day of, it was pushed back to 9:00 PM, which was about right. The rain started just a few songs into Judas Priest's set. That's when a couple friends petered out and LEFT!!! Too bad for them, because the reformed Priest with Rob Halford was killer! They played material covering their whole career with the Metal God himself. "Hellion", "Electric Eye", "Metal Gods", "A Touch of Evil", "Breaking The Law", "Pain Killer", "Victim of Change", and "Turbo Lover" were highlights of the set. At least until they came out for an encore of "Hell Bent For Leather", "Living After Midnight", and the sing-along version of "You Got Another Thing Coming". It's been almost 15 years since I've seen Judas Priest live. From what I've heard, the reunited quintet is releasing their new CD at the end of this year. I'm definitely looking forward to that Christmas present. And in case you're wondering, yes Halford's screams can still pop your eardrums like bubblewrap.

Now for the final event of the night. The original Black Sabbath lineup of Ozzy Osbourne, Tony Iommi, Geezer Butler, and Bill Ward. From the opening clips of various songs combined with a TV screen images on the sides, Ozzy was working the crowd even from behind the backlit curtain. Various suggestive shadow wanking, and an "Iron Man" sing along ensued. I was all giddy with all this build up. "War Pigs" opened the show and the crowd sang along as if they were an extension of the band. During this song, there was a large video screen displaying images of war, bombs, Nazis, etc...and unlike what has been reported, the portion insinuating the comparison of President Bush to Adolf Hitler was NOT present. I for one, am glad. But enough politics...Classic songs of early heavy music began to pound out one by one like "N.I.B.", "Snowblind", and "Children Of The Grave". And it just wouldn't be Black Sabbath without their trademarks like "Black Sabbath", "Iron Man", and "Paranoid". As the band plodded through each song, every moment was captivating. Ozzy is a great frontman, getting the crowd going. You could tell it's these moments of fan appreciation that keep him keeping on. Here's to many more years ahead of you!

Overall, it was a great experience and a looooong day in the sun. There weren't many downsides, but a few burrs did get under my saddle as previously mentioned. Those would be the staff not letting people bring in blankets or ponchos, as it was predicted to rain. The venue SELLING ponchos and umbrellas when it started to pour. Overpriced concession foodstuffs ($4 water, $4 hotdogs, $4 pretzels, $7 beer, etc). Both heels of my combat boots breaking off, making me walk funny. The set of Superjoint Ritual. The fuckhead that threw the glass of water/beer at Tom Araya. The rain, and the nasty sunburn I currently have while typing this long-ass review. Other than that, I can't complain. Here's looking forward to next year. Keep it Metal!
---
to Music