Dimmu Borgir

/ Nevermore / Children of Bodom / Hypocrisy
The Bottleneck, Lawrence, KS
December 5, 2003
Review by: Megiloth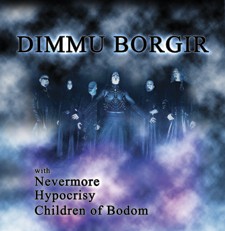 Went to go see Hypocrisy, Children of Bodom, Nevermore, and Dimmu Borgir at The Bottleneck last night. All bands kicked some serious ass. After spending a half hour trying to find a parking space, we got up to the place, and waited outside in line, which was backed up about a block from the door. We find out soon enough that the show was sold out and Sweden's Hypocrisy was already playing. This is a different experience...a show that starts on time. Shane, Kim, and I get inside where it quickly warms up. By the time we got there, we caught about 4 songs. "Destroyed", "Pleasure of Molestation", "Roswell 47", and a new one called "Eraser". I noticed another guitarist up there, so I guess Hypocrisy is a 4 piece outfit now?? Good stuff and lots of metal horns in the air \m/\m/
Children of Bodom was up next. I haven't heard these guys, so I didn't know what to expect. After a couple songs, I kept thinking Sonata Arctica meets Amorphis with black metal vocals. Considering those two bands are from Finland it would make sense...since Children of Bodom have that progressive metal feel as well, and THEY'RE from Finland. Killer guitar solos. I'll have to check these guys out.
Nevermore hopped on stage and played some good heavy power metal. Since it's basically two guys from 80's metal band Sanctuary, and two other guys, there was a bit of that old school feel. Warrel Dane's haunting wails were quite impressive, as was guitarist Jeff Loomis. A couple memorable moments were some guy crowd surfing while the band wasn't playing anything, and then proceeded to be dropped. To which Warrel said something like, "We're not even playing and you're crowd surfing. (gets dropped) Ooooooh...so much for your tailbone!" It was also drummer Van Williams' birthday, so we all did the birthday shoutout. At a quick glance, I thought it was Tom Araya on drums...hehe. Another highlight of the show was their performance of the Simon & Garfunkel classic, "Sound of Silence". The only thing that would have made this better was for them to play old Sanctuary tunes like "Battle Angels" or "Soldiers of Steel".
Up next was Dimmu Borgir, and as part of their intro track stated..."Prepare Yourselves". Norwegian black metal at it's finest. I overheard someone nearby say, "These guys could scare me back into church." Amazing set. I was really hoping to hear "Blessings Upon the Throne of Tyranny" and the title track from their new release, "Death Cult Armageddon". Not so, but they did play a good set even with the exclusion of these speedy numbers. The songs performed were noticeably the slower and midpaced atmospheric ones where all the band could be heard, instead of just Nick Barker punishing his drumkit and Shagrath emanating his tormented vocals. It was pretty amazing how 6 guys could fit on that stage, considering Nick Barker and Vortex are some rather large gentlemen.
I've been to some crazy shows, but I can honestly say this was one of the craziest crowds I've seen. People were being knocked down like bowling pins in the pit, and the crowd participation in the "AY AY AY" chanting will accompanying fistbanging metal horns was almost militant.
---
to Music