Cannibal Corpse / Dark Funeral / Pissing Razors / Incantation
The Bottleneck,

Lawrence

,

KS


April 30, 2002
Review by: Megiloth
When I heard about this show, I was definitely stoked. I've seen Cannibal Corpse before, but not Dark Funeral. I haven't heard anything by Pissing Razors, except they're maybe a cross between Pantera and Fear Factory. I've heard Incantation before but never was really impressed by them. So for me personally I was going to see Cannibal Corpse and Dark Funeral.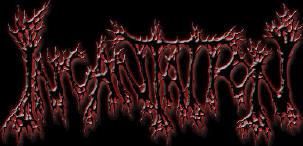 Up first was Incantation. With a spooky intro playing, the band members walked out, turned their backs to us, extended their arms and did the ol' two finger "Devil Horns" salute. When they finally burst into the music, it was fast and furious. When they slowed down, it was torturous and grinding. The vocals were quite guttural, and this new guy is way better than their old vocalist Craig Pillard. The drummer, Kyle Severn, played some of the fastest and tightest stuff I've heard in a while. Songs included a few tracks from their upcoming release entitled "Blasphemy", as well as some other earlier material. Unfortunately I have no clue what any titles were, because the vocalist would growl (instead of talk) between songs. It was a good set, and not many complaints from the crowd as indicated by the sizeable pit.

The next band, Pissing Razors, wasn't that bad. Vocalist, Jason Bragg, definitely knew how to get the crowd going. I didn't know any songs, but what I did hear was some pretty mean sounding, pissed off, angry as hell, intense, groove laden hooks. Like I mentioned earlier…Pantera meets Fear Factory. They seemed to have a bit of following in the crowd. Lawrence, KS is a big college town, and of all four bands, Pissing Razors would be the most musically accessible. One of my favorite "in between song talks" was their advertising to go buy their CD in the back. Something like, "Don't spend $20 on our CD in the store. Buy it here. FUCK TAXES!" After the set, someone popped in "El Paso City" by Marty Robbins. Since the band is from El Paso, TX, this seemed appropriate.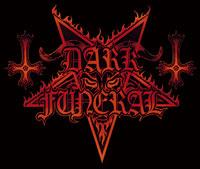 After much anticipation, Dark Funeral hit the stage complete with corpse paint, hooded cloaks, leather and spikes. While the medieval sound intro track played, vocalist Magus Caligula brought out a pig's head held high in the air. I couldn't see everything, but he appeared to be impaling it on something. The next thing you know, he throws it into the pit. Well, with that being said, the Swedish 5-piece proceeded to belt out a furious 35 minutes of ear blistering, soul burning, and pig head kicking Black Metal. Tracks that stood out were "Hail Murder", "An Apprentice of Satan", "Secrets of the Black Arts" and "Open the Gates". About half way through the set, Magus Caligula made mention about the 9-11 attacks on our country and that the pig head (still being kicked around in the pit) represents Bin Laden because <place Scandinavian accent here> "the mothorforker deserves to fokeeng die". From then on, even on top of the music and screeching vocals, I would hear a distinct THUD back in the pit about every 15 seconds, caused by people slamming the pig head into the ground. No biggie, continue on with the show. One thing that did catch my eye about the band is that there was an extra member who was playing bass. Caligula normally handles both vocals and bass, but they had some really skinny guy slinking around playing a bass guitar almost as big as he was! I checked their website and didn't notice any mention of a new member, so maybe he's just a fill in on tour. Overall, an excellent show. Emperor Magus Caligula, Lord Ahriman, Dominion, Matte and the new bassist (whoever he is) thoroughly destroyed….literally. While walking back from the stage after their set, there was a handful of people standing in a small circle in the pit with bemused looks on their face saying things like, "Hey, check this shit out" or "Dude, the floor is busted". By this time people standing around get curious and walk up to see what all the commotion is about. All this time, I was thinking it was a plastic prop pig head that was tossed out earlier in the show. I was quite mistaken. That's when we see that not only is the wooden floor broken through, but a real pig's head was literally smashed to bits and lying wedged between the foundation and the floor. The bouncers were slightly amused at this, but the show must go on. One of them reached into the floor and pulled out chunks of a pig head, which triggered the immediate people who got to see this spectacle, to let out a giant growling "YEEEEEAHHHHH!!!!". Yep, this show will be stuck in my mind for a long time. Just out of curiosity, where does someone get a pig head? But then again, this is farm and slaughterhouse country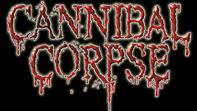 In between sets, the hole in the pit floor was boarded up for the next act, Cannibal Corpse. I've seen them before on the "Vile" tour back in '96, and they've only gotten more intense. This show was no exception. From new songs like "Pit of Zombies" and "Dormant Bodies Bursting" to some old favorites like "Covered With Sores" and the scream-a-long song classic "Skull Full of Maggots". Other songs in the set included "Pounded Into Dust", "Stripped Raped and Strangled", "Vile", "Perverse Suffering", "Born In A Casket", "I Will Kill You" and "I Cum Blood". A couple surprises included "The Pick-Axe Murders" and "Addicted To Vaginal Skin". After much chanting from the crowd for their Ace Ventura hit song, "Hammer Smashed Face", the band played that one as well. This was one brutal show. Alex Webster is a monster on the bass. Jack Owen casually lounges around while playing some killer (no pun intended) riffs. Pat O'Brien has some of the fastest fingers I've ever seen. Paul Mazurkiewicz was hidden back in the corner, but he beat the hell out of those drums. All hail the mighty double-bass and blast beats. And vocalist George "Corpsegrinder" Fisher is a great front man. Not exactly politically correct as exhibited by the following exchange with the crowd: "How many of you guys like to fuck pussy?" (crowd roars) "Are you fucking gay? I said how many of you guys like to fuck pussy?!" (crowd roars even louder) "This next song is called 'Addicted to Vaginal Skin'". The only thing that could have made the show a little better is to play the song they dedicate to the ladies, "Fucked With A Knife", which they didn't play.
Overall, this was a great show sure to gain favor with the Animal Rights crowd and the homosexual community. All that and it was in Bob Dole's home state. I can honestly say this was $17 well spent. Hell, the smashed pig head was worth the price of admission!
---
to Music