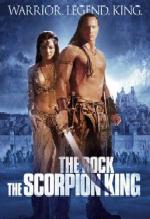 After getting The Mummy Returns last year on DVD and seeing the tidbits/trailer of a movie about the Scorpion King character, I was a little leery of going to see this movie. Besides the fact that the main hero is a pro 'rassler, I didn't think a 5 minute segment at the beginning of a movie, let alone the "Brendan Fraser vs CGI" fight scene warranted it's OWN movie. After seeing The Scorpion King, I was pleasantly surprised.
For starters, if you go into this movie thinking it's the next Conan The Barbarian, you'll be severely let down. Marketing similarities do exist though. Compare the Conan poster tagline "Thief. Warrior. Gladiator. King." to the picture on the left. Of course, there's also the "big muscular man with cool sword flanked by scantily clad babe" pose.
The opening scene pretty much sets the par for the course, and the tone of the movie. In other words, lots of well choreographed fighting, insane use of well crafted weaponry, egregious use of surrounding props (ala Jackie Chan) utilized for maximum pain, and a subtle sense of humor...as indicated by Dwayne Johnson's (more commonly known as WWF's The Rock) opening line. From there it's a lot of action from start to finish. Love, betrayal, and camels. It's all here. This is just a fun movie to watch. They obviously had a lot of fun making this film and it shows. In case you're curious, The Rock did perform his own stunts. I'm not a big WWF fan, but say what you want to about "Professional Wrestlers". They are definitely fine athletes.
Believe it or not, there's actually a plot. Starting off, an opposing army of a master warrior named Memnon, pay a gang of mercenaries to kill his secret weapon, a sorcerer who knows their every move. Mathayas (The Rock), his brother, and some other guy go on their search-and-destroy mission only to be captured in the process. After a quick scene involving pissed off fire ants, Mathayas teams up with comedic sidekick and horse thief, Arpid (Grant Heslov) and together they head off to the plucky little town of Gomorrah...yes THAT Gomorrah...to track down Memnon. One thing leads to another and they meet up with a clan of people led by Balthazar (Michael "The huge black man" Greene) who doesn't particularly care for Mathayas. One fight scene later, and they're buds ready to go take on Memnon and his hordes. Arriving back at Gomorrah, the final battle takes place and lot of ancient ass is kicked, stabbed, or shot with high powered arrows.
There's a lot more to the movie, but I don't want to give away too many things. Watch it with this comparison in mind: It's no Conan, but it's better than Beastmaster 2. I did have a couple minor points of contention though. One, for being in Gomorrah, there sure were a lot of guys and half nekkid women. Two...how the hell does this tie in with The Mummy mythos?? In this movie, he's the good guy, but in The Mummy Returns, he's the bad guy? Maybe it's one of those Anakin/Darth subplots. I guess we'll have to wait for the inevitable sequel.
For fun and amusement, count the number of times Mathayas is called, "The Scorpion King".
RATING: 7/10
---
to Movies & TV