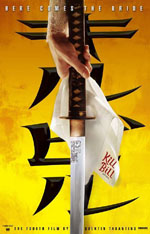 Quentin Tarantino is back and stylistic as hell. This is his first time foraging into to the action movie genre in the form of martial arts. I'm not a purveyor of Asian cinema or Hong Kong movies in general, but if Kill Bill - Vol. 1 is any indication of what exists over there, Tarantino is obviously a big fan and completely immersed himself in it when he made this film.
Kill Bill - Vol. 1 is the story of Black Mamba (Uma Thurman) and her quest to kill those involved in really messing up her wedding day. Once again, the story is told using a non-linear storyline. For those of you in Rio Linda, that means the story doesn't start at point A and end and point Z with all the stories neatly placed in between. If you've seen his other movies, you know what I'm talking about. The language isn't all F-bombs, but the violence and gore make up for it. I read somewhere that 450 gallons of blood were used on this film and its sequel. Can't go wrong there!
After being in a coma for four years, Black Mamba revives in a hospital room to some really disturbing action taking place, and once she gets back on her feet (literally), she's all about kicking ass. The action takes place in America, and then we're taken overseas and then back to America, in a roundabout timeline kind of way. While in Okinawa, Japan, Black Mamba meets up with a master sword maker named Hattori Hanzo (Sonny Chiba) who forges her his best sword. From there it's off to Tokyo, where we are introduced to a colorful cast of characters including O-Ren Ishii (Lucy Liu). We get to see how she became so pissed off via a nice violent anime montage. O-Ren Ishii is the Queen of the Tokyo underworld, and she wields her power with a vengeance...but just in case, she has a band of Kato mask wearing goons and the cute-but-lethal GoGo Yubari, who is a 17 year old sporting a schoolgirl uniform and a destructive ball and chain.
The House of Blue Leaves sequence is nicely done, and shot in black and white. I'm assuming that was done to get out of an NC-17 rating, because the finale is one big bloody mess of body parts all over the place.
To me, the only thing missing is the snappy dialogue and all the pop-culture references that made Reservoir Dogs and Pulp Fiction so enjoyable. Other than that, I have no complaints. This is a helluva movie with real Kung-Fu grip. Pack of Red Apples anyone?
RATING: 9/10
---
to Movies & TV